Holistic Dentistry in Bentonville
---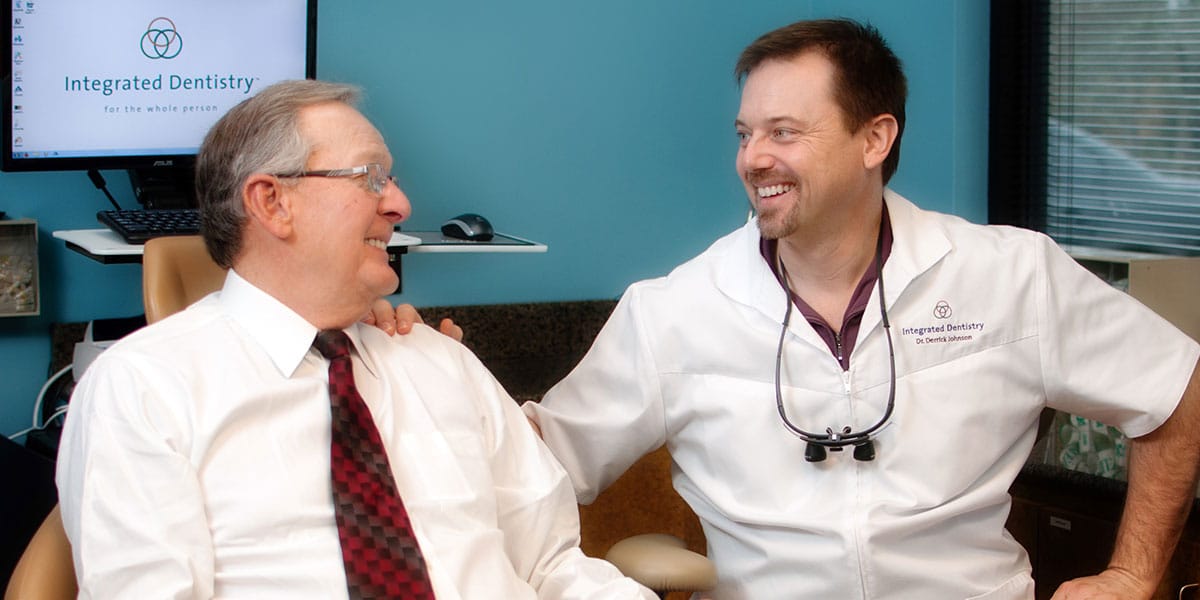 ---
Integrated Dentistry provides holistic dentistry in Bentonville, AR. To learn more or schedule an appointment, call 479-333-1300.

Discover a Holistic Approach
---
Holistic dentistry is a different approach to dental care, but it's one we feel passionate about at Integrated Dentistry. Rather than seeing your oral health as something completely separate from your overall health, holistic dentistry understands that the health of your teeth and gums impact the rest of your body—and vice versa.
Over the past decade, this connection has been well-documented in scientific research across a number of different medical and dental specialities. When the mouth is healthy—the teeth have a coat of armor in the form of enamel, the gums are intact, and the teeth are free of infection—the mouth is doing its job, but disease can penetrate these defenses and begin to fester in the teeth, and then move beyond the teeth and into the jaw bone. The same thing happens around the gums with gum disease. As disease penetrates through these defenses, it causes inflammation and an immune response. Chronic inflammation is bad news for a person's overall health, and dental disease is the number one cause of chronic inflammation in human beings.
---
What is a holistic dentist?
---
Understands biologic concepts
Understands different healing systems
Understands integrative/alternative medicine as it relates to dentistry
Understands detoxification
Understands biocompatibility of dental materials
Understands foundational nutritional concepts
Understands supportive therapies related to biologic dentistry
Understands safe protocols
Understands them!
The key difference with the Integrated Dentistry approach is we look at a person's mouth as a complete system. It is much more than just a collection of teeth that can be patched, filled, crowned, or pulled as they break down. Taking this limited view, of just patching and fixing parts as they break down, leads to a cycle of dental problems. Over time, this leads to significant breakdown and loss of teeth, premature aging, and degeneration of the chewing system. The truth is, the mouth is a dynamic, interconnected system that has a huge impact on our quality of life and health.
Not only is this the zone where we breathe life-giving oxygen, it is where we take in water and food and start the first crucial steps of digestion. It is where we speak, sing, communicate, and express ourselves to the world. It is here that we kiss the ones we love. In addition, the mouth is a key indicator of someone's overall health. Simply put, it is a fundamental part of who we are.
---
Your mouth is basically the gateway into your body. We want to make sure that your mouth is a support to your health and not a detriment to your health.
---
We'll Help You Smile Again
---
Things like abscesses, low-grade infections, materials like mercury, undetected decay, or periodontal disease are all symptoms of an imbalance of your jaw and tooth system. A lot of times people have issues with their sinuses, which are connected with their teeth. We can take a look at the area around the teeth with a CT scan and take photographs to confirm that there aren't any issues that could be detrimental to your health. Most dental disease doesn't hurt, and with our holistic approach, you'll know that your overall health will be excellent, along with your dental health.
---
Our holistic dental treatments include:
---
Mercury-Free Restorations
---
We are a mercury-free and mercury-safe dental practice. Amalgam fillings are about 50% mercury, which is a known toxic element. With many people having these metal fillings, it's possible that at some point they will fail. We use S.M.A.R.T. (Safe Mercury Amalgam Removal Technique) protocols, as developed by the International Academy of Oral Medicine and Toxicology, to protect you, our team, and the environment. When dental fillings are needed, we use safe, mercury-free composite fillings.
---
Zirconia Implants
---
As an alternative to titanium dental implants, we offer metal free zirconia implants. They are strong, beautiful and truly bio-compatible.
---
Ozone Therapy
---
Ozone dental therapy kills bacteria, fungi, and viruses in the mouth, which can benefit patients with tooth decay and periodontal disease. Widely used in Europe, we're pleased to offer this advanced holistic treatment option right here in Bentonville.
---
Laser Dentistry
---
We use laser dentistry for gum recontouring, gum disease treatment, and other soft tissue dental procedures. Dental lasers mean less pain, less bleeding, reduced infection risk, and a faster recovery time.
---
Frequently Asked Questions About Holistic Dentistry
---
What is ozone therapy in dentistry?
---
Ozone dental therapy is commonly used in holistic dentistry to reduce harmful oral bacteria. This can lower the risk or slow the progression of tooth decay and gum disease.
---
What does holistic dentistry mean?
---
Holistic dentistry views the mouth as an integrated part of the body, which means any problems in the mouth impact your overall health, and health issues in the body impact your mouth.
---
What does a holistic dentist use for fillings?
---
Our holistic dentist uses safe, mercury-free, BPA-free composite material for fillings. This material matches the color of your teeth for a seamless, aesthetic restoration.
---
Is holistic dentistry covered by insurance?
---
Yes, the same dental treatments that are provided by a general dentist are covered when they are performed by a holistic dentist.
---
Is it dangerous to remove silver fillings?
---
We strictly follow the S.M.A.R.T. protocol endorsed by the International Academy of Oral Medicine and Toxicology (IAOMT) Dr. Johnson is a long-time member and Fellow of that organization.
Call 479-333-1300 to schedule an appointment with a dentist in Bentonville, AR today!