Digital Dentistry in Bentonville
---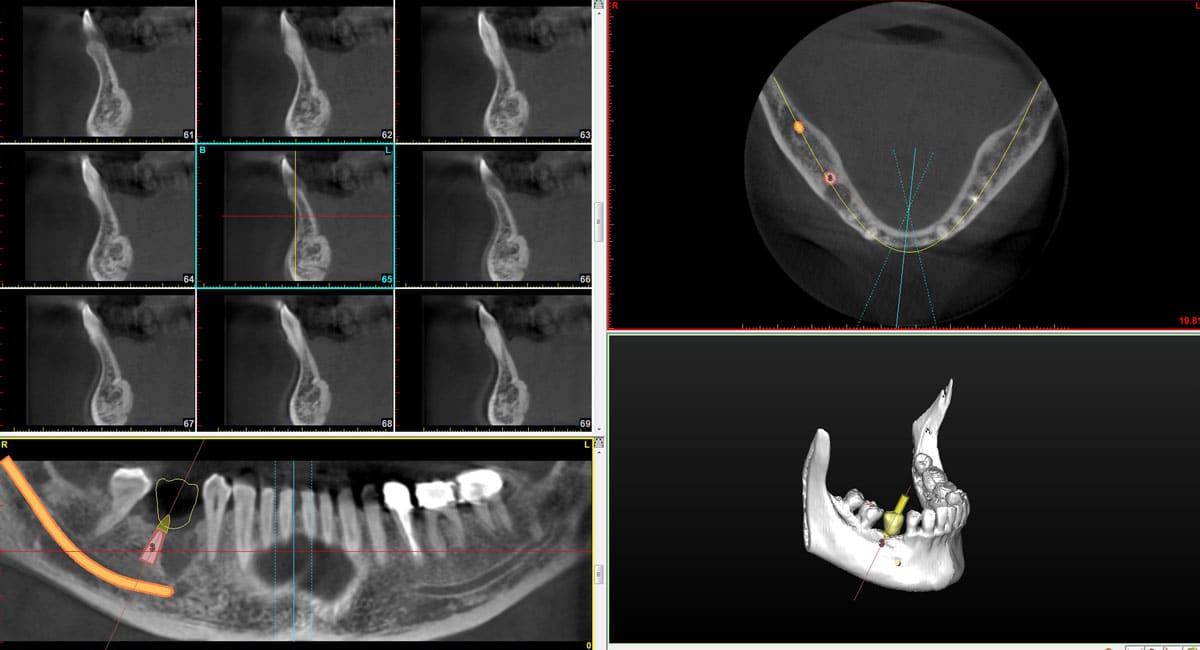 ---
Integrated Dentistry provides digital dentistry in Bentonville, AR. To learn more or schedule an appointment, call 479-333-1300.
---
Revolutionizing Comfort with Technology
---
We believe it's important to be on the cutting edge of technology at Integrated Dentistry so that we can give our patients even more treatment options. With the use of the latest technology available in dental care, we can provide the utmost comfort, the best outcomes, and the most precision for faster recovery and better case planning.
---
Technology has really revolutionized dentistry and it's made things possible that just weren't possible five, ten, or fifteen years ago. One of the things we use every day is a cone beam 3D, so we can take three-dimensional x-rays of your jaw. This is especially important for implant dentistry.
---
3D Cone Beam X‐Rays
---
The 3D Cone Beam imaging system allows our practice to generate accurate 3D imagery of your jaw, mouth and teeth with much more detail than traditional x-rays. This technology also allows us to measure bone density, which is essential for placing dental implants. With CBCT, we're able to build more precise treatment plans, yielding improved patient outcomes and more predictable results.
---
Laser Dentistry
---
Laser dentistry is a highly-effective, gentle way to treat gum disease, remove bacteria, and re-contour gum lines after cosmetic dentistry. The benefits of laser dentistry include:
Increased precision and accuracy
Faster, less painful recovery
Less bleeding
Local anesthesia may not be necessary
Reduced risk of infection
No sutures needed
We're proud to be one of only a handful of laser dentistry providers in Bentonville; Dr. Johnson has received extensive training in order to offer this state-of-the-art service to our patients.
More Dental Technology
---
---
---
Frequently Asked Questions About Digital Dentistry
---
What is the latest technology in dentistry?
---
Dental technology changes rapidly, so the answer to this question today might be different from the answer we give you next month! We stay up-to-date on the latest technologies and implement them in our practice when we believe they would benefit our patients. Laser dentistry and Cone Beam CT technology are two examples of this.
---
What are digital dental implants?
---
Digital dental implants refers to a type of treatment plan that simulates dental implant surgery using computer software. Planning your dental implant surgery with 3D imaging and computer models means we can determine the precise location and angle for each dental implant to optimize your outcome.
---
Is laser dentistry better?
---
Laser dentistry is better for a number of procedures because it involves less pain, has a faster recovery, and reduces infection risk. Just as important, laser dentistry is preferred by our patients, who find it more comfortable than traditional treatment options.
---
Is laser dentistry covered by insurance?
---
Yes, dental insurance will cover the costs of laser dental procedures.
---
Is laser dentistry painful?
---
One of the benefits of laser dentistry is that it's not painful. In fact, many procedures that would normally require local anesthesia can be performed without it when we use dental lasers.
---
Is Cone Beam CT safe?
---
Yes, CBCT uses less radiation than even the safest medical CT scanning, which means you are exposed to very little radiation during your imaging. We only use CBCT when we believe the benefits of the scan outweigh the small risk of radiation exposure.
Call 479-333-1300 to schedule an appointment with a dentist in Bentonville, AR today!